Everything that goes into planning a Moped Tour from Mongolia to Austria
Well first you have to come up with what you want to do, for me that was a mixture of a previous travel attempt by Puch Maxi, an interest in the Mongol rally and old Stories from people who travelled by Moped or Motorcycle, when the roadnetworks were nothing compared to today. In short that's how I got the Idea. Btw the Name "Maxi Touring" I guess is self explanatory, it was just yeah I need a name for that, what do I do? I go touring with my Puch Maxi, there it is Maxi Touring.
But of course those things take time, I spent several monts researching Routes, Countries and most importantly: Costs. You can save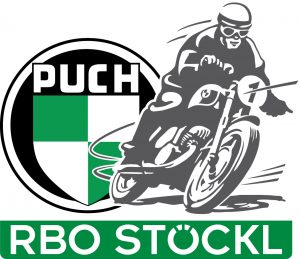 a lot while travelling or you can spend a whole lot on Hotels, also which gear do you need or want? All these things need to be considered. Once I got everything roughly together I tried to offset some expenses by looking for sponsors, which is rather hard when you don't have any related references. But two great companies did decide to support this trip. First is RBO-Stöckl, Mr. Stöckl was very helpful, he prepared the motor of my Puch Maxi for this trip and also supplied me with all the necessary Spare Parts I might need for this t
our. A big thanks goes out to the Team at RBO-Stöckl for putting up with me and really helping me out. The other Sponsor is Outdoorer, who helped me out with Camping-Gear, my Tent, Sleeping Pad and Towel are from them. Therefore a big thanks to them as well, new camping gear was something I really needed. 
After finding the Sponsors it was time to make use of all the preparations and start booking and fix dates. But to be honest until the day I saw the box with my Puch Maxi disappear into that Truck I wasn't quite so sure this would all go down. 
But lets jump forward a bit, my first few days in Ulanbator, getting acclimated, retrieving and preparing the Moped for the Trip. Going to Mongolia was quite exhausting, I basically didn't sleep for two nights and spent most of my first day sitting around apathetically and writing the first part of this Post. However I did find another Puch Maxi at my Guesthouse, this one actually belongs to the Owners Husband, and it somehow found it's way from Switzerland to Mongolia.
Second day in Ulanbator, things are getting serious. In the morning I went to the office of the logistics company and from there to the storage area, it took 3 hours to get my documents and in the meantime I unpacked and reassambled the Maxi. Quite a few workers were interested in the Puch and very amused after I told them what I want to do. I also got my first taste of the terrible traffic in Ulanbator, but with my Puch Maxi it was easy to maneuver through and probably a lot faster than going by car. I also managed to find a 10l Fuelcan, which wasn't that easy to aquire, it felt like I found the only one in Ulanbator and only as a used item in a Market for old car parts, but as long as it works I'm not complaining. Oh and I also bought a fuel filter, figuered it might be good to have one, since I don't know the quality of the fuel out in the steppe.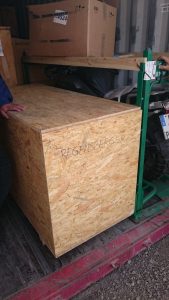 On the third day I did some maintenance on the Moped, checked all the nuts and bolts and I switched to a smaller Mainjet, since Ulanbator is actually at 1400m above Sealevel and much of Mongolia is as high, I tested the setup later that day and it works nice. Besides that two new Guests arrived and finally I wasn't alone at the Guesthouse anymore. A Lady from Germany and a Southkorean joined me and we had some interesting conversations about Mongolia and travel in general. Besides shopping for some supplies it wasn't a very eventful day.
The fourth and last day in Ulanbator was finally the day I went into the city center and have a look around, However the city can't really compare to other older cities around the world. Yes it is very modern and rather clean but it doesn't feel inviting, there is no "old town" and not much going on Outside besides people getting from A to B, all the Restaurants and Cafes are indoor and you can't sit outside to enjoy the weather, but that's just my take on it.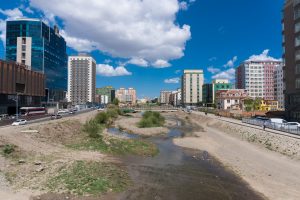 I packed everything up and tomorrow is the day I leave.
---
Vorbereitungen in den Monaten und Tagen vor einer Mopedreise von der Mongolei nach Österreich
Zuallererst muss man natürlich einmal herausfinden was man denn genau machen möchte, bei mir ergab sich das aus einer früheren, nicht ganz erfolgreichen, Maxi-Reise, Interesse an der Mongol-Rally und alte Aufzeichnungen von Abenteurern, die mit Mopeds und Motorrädern gereist sind, zu einer Zeit als es noch nicht so bequem war wie heute. Dadurch bin ich eben auf die Idee zu dieser Reise gekommen. Der Name ist eigentlich auch selbsterklärend, Maxi steht für das Moped und Touring für das was ich hier mache, Maxi Touring.
Natürlich braucht es von der Ideenfindung bis zur Ausführung auch immer etwas Zeit, in meinem Fall flossen mehrere Monate in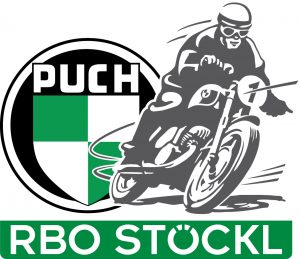 die Recherche möglicher Routen, Länder und natürlich der Kosten. Man kann so eine Reise mit kleinem Budget machen oder natürlich einen Haufen Geld für Hotels und teures Equipment, welches man vielleicht gar nicht braucht, ausgeben. Nachdem ich mir einen Überblick verschafft hatte, wurde der Versuch unternommen ein paar der bevorstehenden Kosten durch die Zusammenarbeit mit Sponsoren auszugleichen, was sich aber als etwas schwer herauskristallisierte, vor allem da ich ja keine wirklichen Referenzen vorlegen konnte. Aber nichtsdestotrotz haben sich zwei großartige Firmen gefunden, die mir etwas unter die Arme griffen. Zum einen ist dies RBO-Stöckl, der Herr Ing. Stöckl hat mich großzügiger weise mit allerlei Ersatzteilen ausgestattet und auch die Puch Maxi vor der Reise noch einmal durchgecheckt und für die
Tour "vorbereitet". An dieser Stelle ein großes Dankeschön an das Team von RBO-Stöckl, dass sie sich meiner angenommen haben und mir wirklich weitergeholfen haben. Und die zweite Firma ist Outdoorer.net, die mich mit Campingausrüstung versorgt haben, dank deren Team darf ich ein neues Zelt, Isomatte und Reisehandtuch mein Eigen nennen. Auch hier ergeht ein großes Dankeschön für die nicht selbstverständliche Unterstützung.
Nachdem das Sponsoring unter Dach und Fach war, war es nun Zeit meiner Vorbereitung Taten folgen zu lassen und endlich Buchungen durchzuführen und Daten zu fixieren. Natürlich musste auch die Maxi noch getestet werden, wozu einige Testfahrten unternommen wurden. Ehrlich gesagt war ich mir nicht wirklich sicher, dass die Tour zustande kommt, bis zu dem Tag an dem die Transportbox im LKW verschwand und es kein Zurück mehr gab.
Aber spulen wir ein bisschen vor zu meinen ersten Tagen in Ulaanbaatar, in welchen ich mich erst einmal akklimatisiert habe und das Mofa abgeholt und vorbereitet habe. Die Anreise war schon ordentlich strapaziös, ich bekam zwei Tage praktisch keinen Schlaf und verbrachte meinen ersten Tag in der Mongolei damit apathisch rumzusitzen und den ersten Teil dieses Posts zu verfassen. Aber erfreulicherweise fand ich in meinem Guesthouse eine andere Puch Maxi, diese gehört dem Mann der Wirtin, irgendwie fand diese Puch Maxi ihren Weg aus der Schweiz hierher.
Am zweiten Tag wurde es dann Ernst, am Vormittag machte ich mich auf zum Büro der Spedition und von dort zum Zollterminal, dort wartete ich erstmal 3 Stunden um meine Dokumente zu bekommen, in der Zwischenzeit konnte ich aber bereits die Maxi auspacken und zusammenbauen. Einige der Terminalarbeiter waren durchaus interessiert an der Maxi und dann auch sehr erheitert als ich ihnen von meinem Vorhaben erzählte. Am Weg zur Unterkunft bekam ich auch meinen ersten Geschmack vom Verkehr in Ulanbator, der wirklich Irre ist, aber mit dem Moped kann man sich durch die ganzen Staus gut durchschlängeln. Nach langem suchen fand ich auch einen Benzinkanister auf einem Markt für Fahrzeuggebrauchtteile, der natürlich auch gebraucht war, aber immerhin deutsches Fabrikat. Fühlte sich auf jeden Fall an, als hätte ich den einzigen 10l Plastikkanister in ganz Ulaanbaatar gefunden. Dazu hab ich dann für den Fall noch einen Benzinfilter gekauft.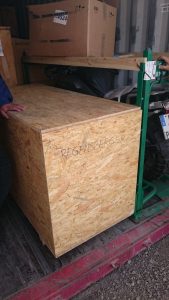 Der dritte Tag war Techniktag, ich habe erstmal das Moped durchgecheckt, alle Schrauben und Muttern insbesondere und eine kleinere Düse verbaut, die ca 1400m auf denen Ulaanbaatar liegt merkt man dann doch. Später hab ich das neue Setup dann auch getestet und lief Problemlos. Außerdem kamen endlich neue Gäste in der Unterkunft an, so dass ich nicht mehr alleine war. Eine Deutsche und ein Südkoreaner kamen dazu, mit denen ich auch interessante Gespräche über die Mongolei und Reisen insgesamt hatte. Ein paar Vorräte habe ich an dem Tag auch noch gekauft, aber sonst war dann nicht mehr viel.
Der vierte und letzte Tag in Ulaanbaatar war dann etwas touristischer geprägt, ich sah mir die Innenstadt an, befand jedoch, dass diese nicht wirklich interessant ist. Eine Altstadt gibt es hier leider nicht und auch auf den Straßen sind die Leute nur um von A nach B zu kommen. Restaurants und Cafes sind alle in Gebäuden, nirgends kann man draußen sitzen, das fand ich persönlich nicht so einladend.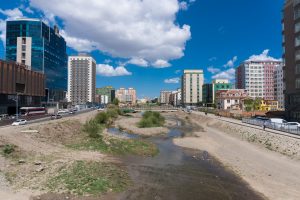 Abschließend habe ich mein Zeug zusammengepackt, denn morgen geht's los.