2012 - The First Adventure
In 2012 I was about to finish school and while I was studying for my final exams I decided to travel through europe when I'm done. I quickly decided on a route I wanted to take, but I had some trouble finding the mode of transport I enjoyed the most. Train and Bus were out of question because I wanted to travel at my own pace and not constantly worry about timetables. A car was too expensive and too fast, I wanted too experience the act of traveling as well, so there were not many options left, just walking would take too long and a bike was in my opinion too much excercise, which brought me to mopeds. They are small, slow, but not too slow, easy to fix and if you run out of gas or your motor stops, you can at least pedal to the next town.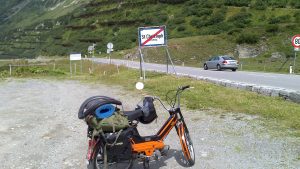 So it was settled, as I was already a fan of Puch vehicles I bought myself a Puch Maxi from 1977, not in a very good condition but good enough, I worked on it for one week to learn the most basic things, practiced driving for two weeks, since I have never ridden a Moped until then, and then I set off.
The first day I had some minor issues: loose hardware, my first fall after less than 5 km and the highest Pass, which was too steep for me, forcing me to turn back and fortunately find a Beer-delivery-man who was nice enough to bring my bike up there. The first day was also the only day I experienced rain which in hindsight was great. After that however it was mostly smooth driving through Switzerland and then into France. I follow the Rhone River down went up into the Cevennes where I had one day off to relax. I then set off southbound towards the coast along the Cote-d-azur to St. Tropez. That was really when things started to go downhill, when I restarted my Moped in St. Tropez I noticed a strange somewhat metallic sound coming from the engine, but I had to continue to Nice where I had booked a room for the night, so that I could troubleshoot the motor and maybe spend some days there.
But that did not happen, after the sound got increasingly worse
10km before Nice it just stopped and wouldn't budge anymore. I therefore had to start biking towards Nice on a road not intended for bicycles (Note: that wouldn't be too hard but since my first fall the pedal was bent and now on every rotation it scraped the exhaust with a loud "bang" and made it hard to pedal altoghether). On the first exit I left the road and found myself in Nices Airport area, with no Idea how to get into the city I pedaled around the whole airport until a river blocked the way, forcing my to get back onto the initial big road and adding like 5 more unnecessary km to the route. At 11:30pm I finally reached my hostel, but to make my day even worse they had canceled my reservation at 11pm and because it was a holiday with a celebration everything was already booked and all the other hostels were booked as well
First I tried to troubleshoot and get my moped working so I could leave the city-center and find a place to camp, but after several failed attempts I had to give up. I packed all my stuff and spent the night sitting at the waterfront waiting for the sunrise. The next day I had to accept defeat, at first I searched for a Train that would take my Moped and me, but to no luck. So I had no other choice but to make the hardest phonecall yet and tell my parents I'm stranded in Nice and need their help to pick me up (Note: Since my parents didn't really take my travel-plans serious and
probably thought I'd break down before leaving Austria, they said they'd pick me up if I break down and boy did I take them up on that offer, thanks for that). 8 hours later my mum actually showed up and my trip came to an exceptionally unglorious end in France after 9 days and about 1500km travelled.
Epilogue:
Back home I started fixing my Moped and discovered that there unfortunately was a preexisting condition, one ot the crankshaft-bearings was seized and the inner ring rotated freely on the crankshaft, this seemingly led the bearing between the connecting rod and the crankshaft to disintegrate and end my trip and is probably responsible for my continued fascination with Moped-travel.