The City of Apples
11.June 2018
After sleeping in for the first time in a while, that day consisted mostly of Computerwork. After writing another Post for this Blog I needed to figure out my next steps I had been thinking about two possible options since I decided that the Puch Maxi was not able to bring me around the Pamir Highway, the first was to find a replacement Moped that I could either buy or rent take it around the Pamirs come back and continue on the Moped or if that didn't work out do a Lap around Lake Karakul in Kirgistan before circling back up into Kazakhstan and continuin towards Russia. Well I did find a company in Kirgistan that has a few Scooters to rent but wether they would let me take one of them to Tadjikistan wasn't sure at that point, so we decided to meet at their office in Bishkek in a few days to figure everything out.
12. June 2018
Had another australian Roommate in my Hostelroom in Almaty and together we tried to visit the Botanical Garden to see some wild appletrees. All current domesticated Appletrees have a common ancestor, the "Malus sieversii" which grows or better grew in forests in the tien-shan Mountains surrounding Almaty. Unfortunately there are not many left due to deforestation during the soviet era. But the Garden was closed for about a week, so without seeing any wild apples we opted for a walk around the city. The day ended in a vodka fuelled evening thanks to some russians staying at the Hostel.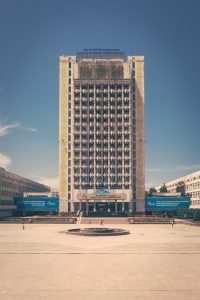 13. June 2018
A bit delayed from yesterday evening the australian from yesterday as well as another australian and me set off in a Uber-taxi to the "Big Almaty Lake". An artificial Lake high in the Mountains, close to the Kirgis Border that serves as a Water Reservoir for Almaty. At 2500m the Temperature was amazing compared to the humid heat down in the city, it really felt like being back in the Alps in Austria. Although the water level was quite low the lake still retained it's iconic light blue colour, if you ever visit Almaty I can only recommend coming to the "BAL" however no going down to the water from the street. Since it is a Water reservoir and close to the Border, there are quite a few Guards around even checking your Passport and ensuring nobody goes down to the water.
14. June 2018
In the morning it was time to leave Almaty again, the road towards Bishkek was of great quality and the kilometers just flew by. I did reach the border a bit late at around 5pm but crossing was no problem at all. On the other side I immediately bought a new SIM-card and started looking for a Hostel for tonight. Traffic in the city as as horrible as Almaty and as an added bonus the Moped wouldn't idle anymore and just went out when i stopped moving. Nevertheless I managed to get to my Hostel, which is run by some College students who were really friendly. One of them even walked with me to the closest restaurants, unfortunately most of them were booked out since today was the last day of Ramadan. Which I obviously didn't know and I have to admit it felt awkward eating my meal, while around me people were just sitting at their tables waiting for another 20 minutes until Ramadan was officially over and they could start eating.
Die Stadt der Äpfel
11.06.18
Den Vormittag nutzte ich erstmal um mal wieder auszuschlafen, der Rest des Tages bestand dann hauptsächlich aus Computerarbeit. Nachdem ich einen weiteren Blogpost geschrieben hatte musste ich noch festlegen wie ich die Reise fortsetzen möchte. Da die Puch Maxi mit den Anforderungen im Pamir Gebirge (4000m viele heftige Bergpässe) nicht zurechtkommen würde gab es zwei mögliche Lösungen. Um den Pamir Highway zu fahren müsste ich ein Ersatzgefährt zum kaufen oder mieten finden, mit dem ich nach Tadjikistan meine Runde drehen kann und dann zurückkomme um auf der Maxi weiter zu fahren oder falls dies nicht möglich ist würde ich eine Runde um den Karakol-See in Kirgisistan fahren bevor ich wieder zurück nach Kasachstan komme und weiter Richtung Europa fahre. Glücklicherweise konnte ich ein Unternehmen in Bishkek (Kirgisistan) finden, welches Mopeds verleiht, ob die mich mit einem außer Landes lassen war aber noch nicht ganz sicher, wir einigten uns darauf das ganze in ihrem Büro zu besprechen, wenn ich in ein paar Tagen Bishkek erreiche.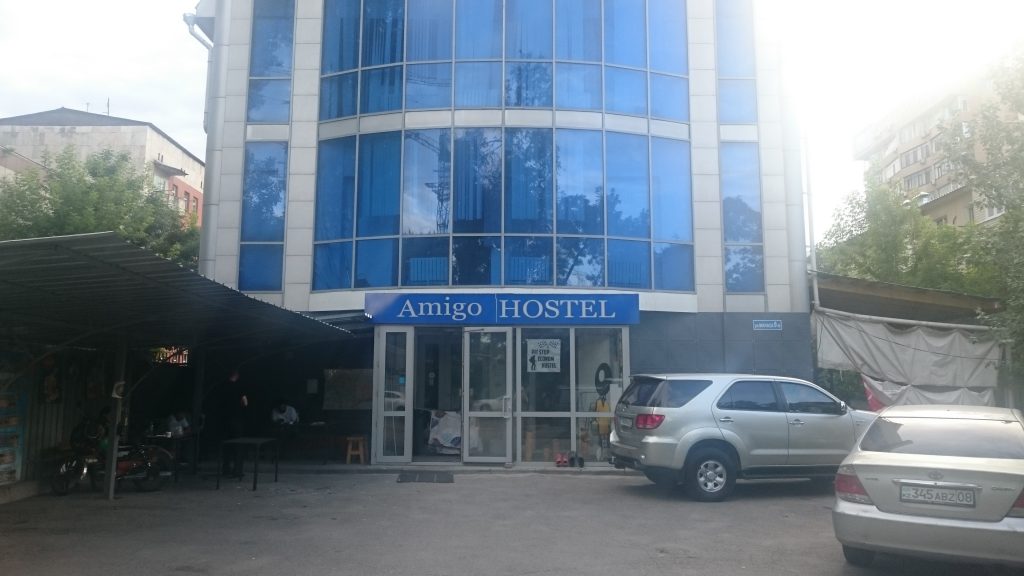 12.06.18
Ich hatte mal wieder einen Australischen Zimmergenossen in meinem Hostel und zusammen beschlossen wir den Botanischen Garten von Almaty zu besuchen, vorwiegend um die wilden Apfelbäume zu sehen. Alle kultivierten Apfelbäume stammen von den wilden "Malus sieversii" Äpfeln ab, diese wachsen, oder besser wuchsen, im Tien-Shan Gebirge rund im Almaty. Aufgrund starker Abholzung insbesondere in der Zeit der Sowjetunion gingen viele dieser Wälder verloren. Leider war der Botanische Garten ausgerechnet jetzt für eine Woche geschlossen, ohne wilde Äpfel zu sehen wurde dann ein Stadtspaziergang daraus. Der Abend zog sich dann noch mit ein paar Russen aus dem Hostel und ein paar Flaschen Vodka.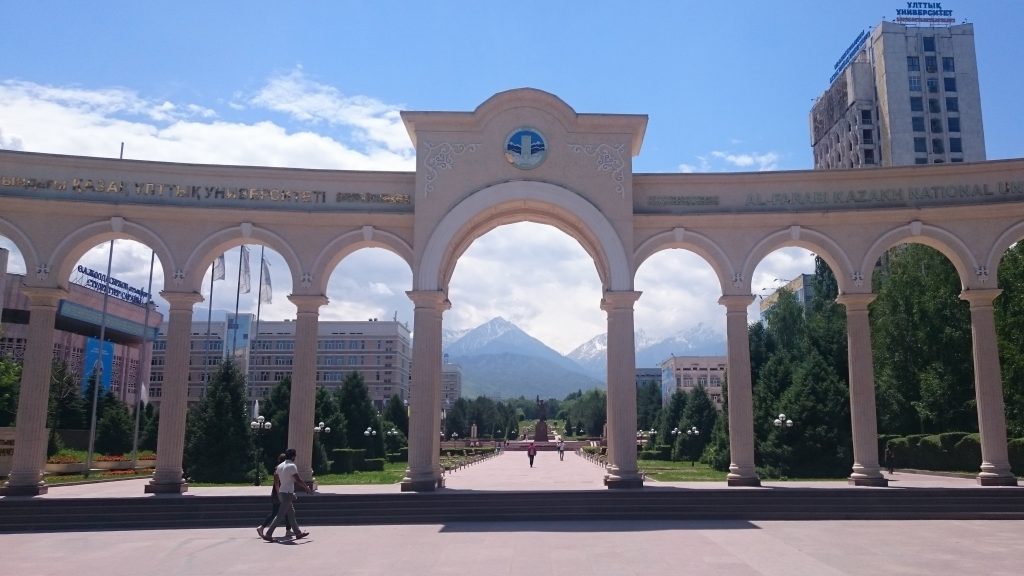 13.06.18
Etwas verspätet dank gestern Abend ging es mit dem Australier von gestern und einem weiteren Australier in einem Uber-Taxi zum "Big Almaty Lake", ein künstlich gestautes Wasserreservoir für Almaty welches auf ca 2500m liegt und recht nah an der Kirgisischen Grenze ist. Dank der Höhe war die Temperatur hier richtig ideal verglichen zum schwülheißen Wetter in der Stadt, es fühlte sich wirklich an als wäre man daheim irgendwo in den Alpen unterwegs, es sah auch so aus. Der Wasserstand des Sees war zwar sehr niedrig, aber er behielt trotzdem seine erstaunlich hellblaue Farbe, wer jemals Almaty besucht sollte definitiv den "BAL" besuchen. Aber aufpassen runter zum Wasser darf man leider nicht, wegen der Nähe zur Grenze und da es sich um ein Reservoir handelt sind einige Soldaten unterwegs, die Pässe kontrollieren und sicherstellen, dass sich keiner dem Wasser nähert.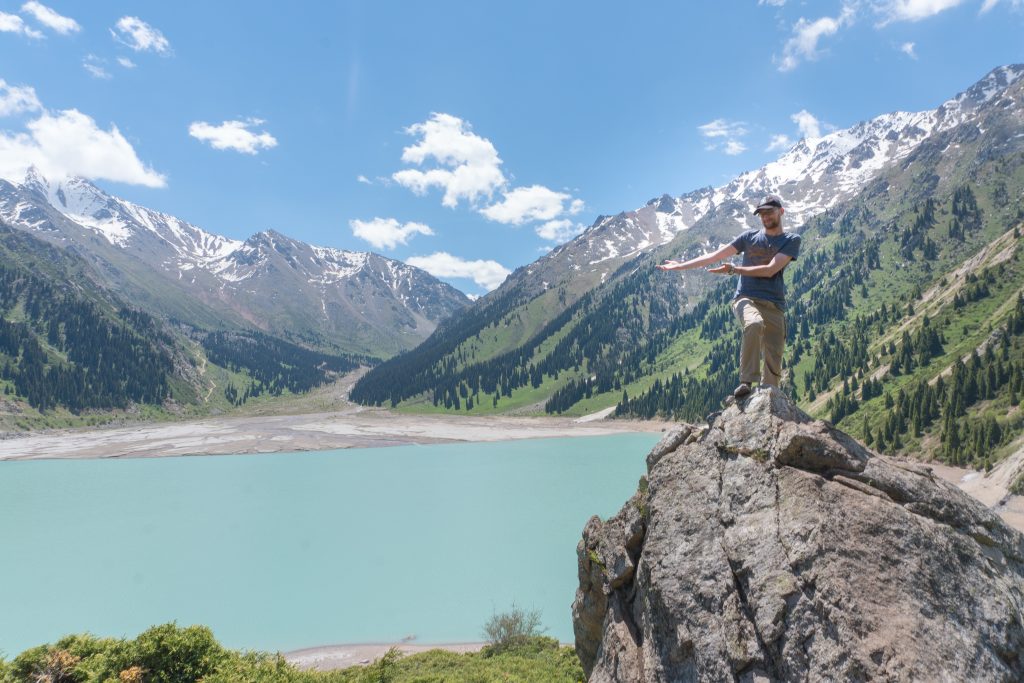 14.06.18
In der Früh war es Zeit Almaty zu verlassen, die Straße nach Bishkek war ausgezeichnet und die Kilometer flogen nur so vorbei. Etwas spät gegen 17 Uhr erreichte ich die Grenze, aber es gab absolut keine Probleme diese zu Überqueren. Auf der anderen Seite besorgte ich mir sofort eine neue SIM und suchte online eine Unterkunft. Der Stadtverkehr war ähnlich katastrophal wie in Almaty und obendrein hielt das Mofa kein Standgas mehr und ging immer aus. Irgendwann hab ichs dann aber doch zum Hostel geschafft, das ganze war ziemlich neu und wurde von Studenten betrieben, die wirklich freundlich waren. Eine hat mich sogar begleitet um mir zu zeigen wo in der Nähe man überall Essen kann, leider waren die meisten ausgebucht, da heute der letzte Tag des Ramadan war. Natürlich wusste ich das im vorhinein nicht und ich muss zugeben es fühlte sich ein bisschen komisch an zu Essen während die Leute rundherum an Ihren Tischen noch 20min warteten bis der Ramadan offiziell vorbei ist und sie dann endlich etwas essen durften.